Nastavljaju se odlaganja: čekaćemo malo duže i na Cyberpunk 2077
CD Project RED objavio je na svom zvaničnom twitter nalogu da je prinuđen da odloži izlazak igre Cyberpunk 2077 za pet meseci.
Kako je navedeno u saopštenju, umesto u aprilu, dugoočekivano FPS ostvarenje razvojnog tima CD Project RED biće objavljeno 17. septembra 2020. godine.
Obrazloženje je očekivano: predstavnici studija naveli su da poliranje igre zahteva dodatno vreme. Ipak, oni su otkrili da je Cyberpunk 2077 kompletiran i da može da se odigra od početka do kraja. Grad u kojem se priča odvija, "Night City", je ogroman i kompleksan, te će zadatak razvojnog tima biti da testiraju svaki njegov kutak, isprave probleme i doteraju detalje.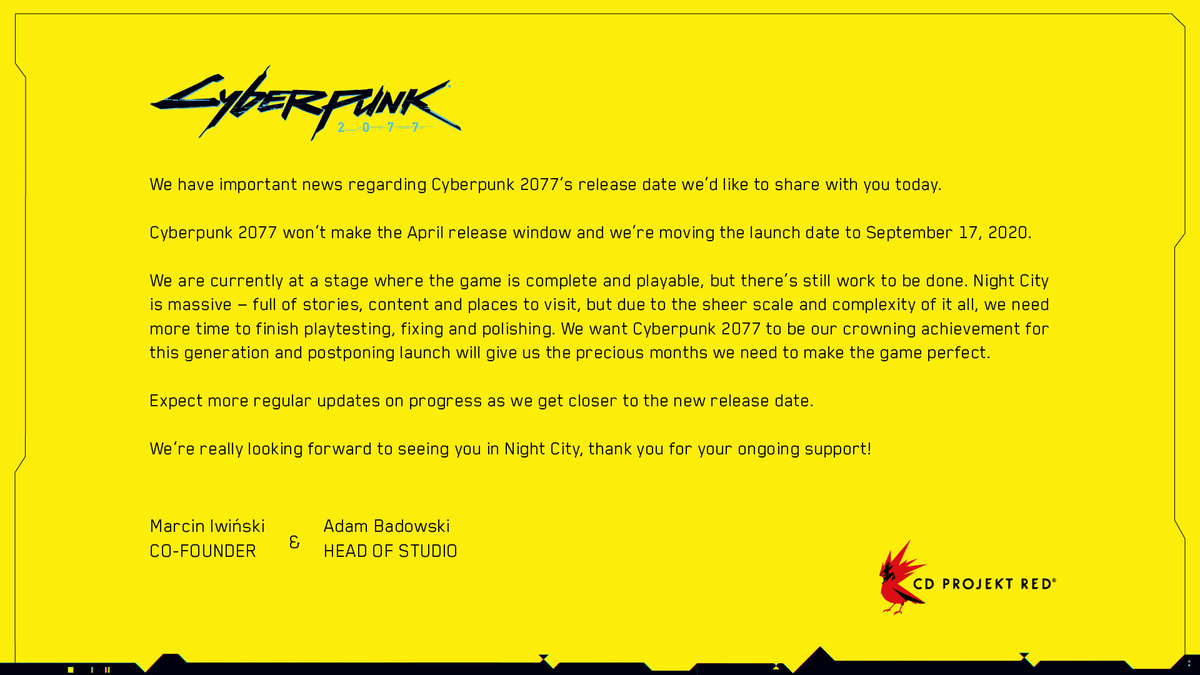 Nakon informacije o odlaganju, predstavnici studija su se oglasili još jednom navodeći da čak i kada bude objavljen, C2077 neće imati multiplejer mod u sebi, te će ova opcija biti dodata tek tokom 2021. godine.
Mada smo bili sigurni da studiju CDPR neće biti potrebno baš ovoliko vremena da nam isporuče Cyberpunk 2077, najnovija najava nije preveliko iznenađenje jer u poslednje vreme nismo mogli da čujemo previše detalja o igri. Oni zlobniji su čak spremni i da kažu da je i bolje ovako jer je The Withcer 3 svojevremeno došao sa gomilom problema koji su tek naknadno ispeglani. To ipak nije sprečilo ovo ostvarenje da bude jedno od najboljih prošle dekade.
Autor: VideoGame Arena